NEC Handsets
With a wide range of choices, you can choose from Analogue, IP, Digital or Cordless DECT handsets.
All of the NEC SL2100 Handsets have a user-friendly interface. These intuitive to use handsets  require little to no staff training, meaning your staff can excel with an NEC Telephone System as soon as it is installed.
DT820 IP Handset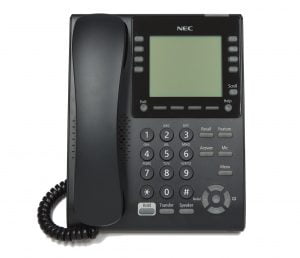 The NEC DT820 is available in both 6 Line and 8 Line models. These handsets offer a sleek design and are a great choice for businesses that need cost-effective handsets that don't compromise on features or functionality.
Features:
– Backlit display and line keys
– Softkeys/LCD prompts
– Call History
---
SL Series IP Handset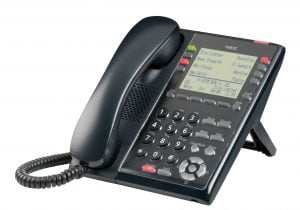 The NEC SL Series IP Self-Labelling Handset provides all of the day to day features required from a desktop phone and maintains an elegant design.
Features:
– Backlit display
– Programmable self-labelling keys with lamps
–  100 number personal directory
M166C Communicator
The NEC M166 Communicator is an alarm and communication device in one. It is ideally suited to provide personal safety to staff, patients and elderly people, such as in care institutions. This wireless alarm and communication device provides the freedom and comfort to move around whilst saying connected.
Features:
– Pressing the alarm button will immediately alert the relevant staff
– Instant Speech Connection
– Can be worn with a lanyard or clip
---
G266 Dect Handset
The NEC G266 is a compact and professional mobile handset. This handset offers a range of business features such as a central directory, loudspeaker and personal alarming.
Features:
– Many call control feature seamless integrated with the phone system
– SOS alarming key
– Dual charger allowing for an additional battery to be charged
---
G556 Dect Handset
The NEC G566 is a sophisticated business handset that provides a wide range of mobile communication capabilities. With this handset your employees can have the confidence to be mobile whilst on the phone.
Features:
– Dedicated programmable keys with LED indication
– Intuitive user interface with colour display and icon based menus
– SOS alarming key
---
I766 Dect Handset

The NEC I766 handset is designed with the most demanding environments in mind, with its rugged design it is suited to environments such as healthcare and manufacturing.
Features:
– Sturdy, yet appealing design
– SOS button, man-down and pull cord alarm
– Dust and water protection
AT55 Digital Handset
The NEC AT55 is a fresh alternative to the traditional single-line telephone, and is suited to businesses that need basic, but unrestricted, access to a reliable phone service.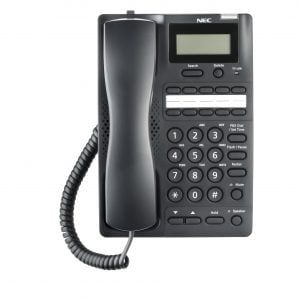 Features:
– Ten one-touch speed dial functionality
– 2×16 digit display
– Directory access up to 90 contacts
---
SL Series Digital Handset
A sleek and feature-packed design that is available in either a 12 button or 24 button. The NEC SL Series Digital Handsets are customisable to your employee's needs and support a wide range of features that promote productivity and efficiency for your employees.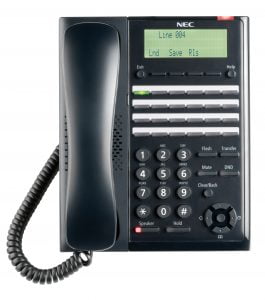 Features:
– Backlit display
– Programmable keys with lamps
– 100 number personal directory
---
Expansion Console
Equipped with 60 buttons, the NEC Expansion Console is the perfect companion for the SL Series 12 and 24 Button Digital Handsets.

Features:
– 60 buttons
– Two LED colours (Red/Green)