Best Business Broadband and Phone
Overview: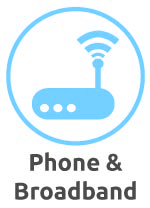 Best Business Broadband and Phone
Midshire Telecom has a range of competitively priced business broadband and phone deals, perfect for businesses of all sizes. Our expert sales and support teams are on hand to create the best telephone and broadband deals, providing the perfect telecommunications solution on one bill.
Midshire Telecom is an industry leader when it comes to providing business telecommunications, and we focus on providing excellent customer service to create a bespoke telecommunications solution for your business. With over 25 years of experience, Midshire has made the right investments and partnerships so that we can provide some of the best business phone and broadband deals on the market.
Phone Lines
Midshire Telecom offers a variety of business phone systems and lines, and we focus on providing an affordable range of options with quality service. Our consolidated calls and lines packages make it hassle-free to monitor and manage your costs effectively.
If you're looking for more traditional lines, Midshire Telecom can offer analogue, ISDN2, and ISDN30. Midshire Telecom's VoIP compatible SIP trunking telephone systems are the latest telecommunications innovation. These lines offer all the functions of traditional lines, with the added benefit of greater resilience, new features and flexibility, all for a lower cost.
Broadband
At Midshire Telecom, we work hard to support small businesses and from-home workers. We understand that you need the same great connectivity and reliability from your phone and broadband as a larger business. Midshire Telecom provides the best small business phone and broadband deals in one easy to manage package and on one bill. For broadband, we'd recommend our superfast FTTC broadband, which offers great connectivity and speeds, whilst allowing for multiple users and unlimited downloads.
Larger businesses use a lot of bandwidth and talk time and as such need the technologies to handle this large usage, without a huge price tag. A leased line is typically the best option for larger businesses, as it won't slow you down at peak times and has fast upload and download speeds. A leased line gives you complete control of your bandwidth requirements allowing you to increase or decrease your bandwidth in line with your business' usage requirements, up to 1gb/s. Furthermore, as a leased line is essentially your own private connection to the internet, you won't be sharing bandwidth with anyone else on your street or industrial estate meaning you won't be slowed down.